Thai
Thai-speaking destinations, courses and useful information
Learn Thai abroad
Originating from the south of China, Thai is today spoken by more than 70 million people. A beginners' course to discover it? Improving it with an advanced level course? Whatever your wishes, your level in Thai, the time you can dedicate to this language study stay in Thailand, we certainly have a formula which will suit you. Whether an intensive course of two to three weeks, for example, or even for several months, we will find the formula adapted to your needs. 
Our Thai language destinations
Thai courses abroad
We're proud to partner with first-class language schools offering a wide range of courses. Whatever your age, goals and level, we have a course for you!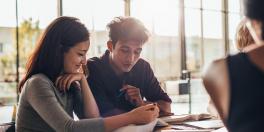 General courses
It's a fact: there's no more efficient way to learn a language than using it and being exposed to it in different contexts every day over a length of time. This is precisely what our general courses offer you – the opportunity to receive outstanding language lessons as well as endless opportunities to put your new skills into practice. And that's how you cement knowledge!
Learn more
Get the best deal for your language stay