Course Plus Yoga: Language courses abroad
What better state of mind to learn a language than serenity? Combine intellectual with bodily activity and adopt the "zen attitude" to free your body and soul.

Our Language Plus Yoga program is a unique opportunity to learn a language in a soothing context while discovering yoga or improving your technique. Physical and mental training, meditation and breathing exercises are conducive to picking up a new foreign language.

The beneficial effects of the oriental discipline have been well known and recognized for centuries. This ancestral philosophy aims to achieve harmony between body and spirit. By practicing yoga, you will detox your brain and make it more receptive to language learning.

No matter how you've come to yoga, it will help you achieve stress reduction, intense relaxation and a healthier lifestyle. In short, perfect conditions to tackle any linguistic challenges!
English Plus Yoga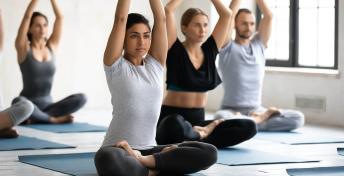 New Delhi (India)
The home of yoga, India abounds with well-established yoga institutions and skilled coaches. In its capital city of New Delhi, the various styles of yoga (including Vinyasa, Kundalini, Iyengar, Ashtanga, Hatha, Bikram, etc.) are taught in many course centers. Our partner school in New Delhi offers original packages allowing you to combine English and yoga classes in order to get a deeper and personal understanding of this sacred philosophy, developed in India over the ages. After the language classes in the mornings, participants will practice traditional yoga methods in the afternoons. Lessons are held in English so you learn the vocabulary of anatomy and movement. A specific optional workshop on Friday afternoons will allow you to consolidate the skills learned over the past week together with your yoga teacher. New Delhi being a hotspot for this yoga, our partner school will guide you to choose a quality yoga center in town.
Do you need more information about our Course Plus Yoga program?
Please get in touch with our team, or download a brochure:
Get the best deal for your language stay