Intensive English and Silicon Valley Start-up
There is no place that better captures the American spirit of "self-starting" than Silicon Valley, in California. As the beating heart of the USA's tech industry and the home of some of the country's biggest names – you can almost smell the ingenuity, creativity, and ambition in the air!
With its high concentration of industry, access to world-class talent and unique culture of innovation – Silicon Valley is the ideal ecosystem for budding startups. This programme is the perfect way for you to learn from this environment and apply it to a business project of your own.
During your time with our partner school in Berkeley, you will be guided on how to take your business idea to the next level in an immersive, English-speaking environment. Through practical insider information, educational excursions, and lectures delivered by real-world Silicon Valley professionals – you'll be inspired to dream big!
Improve your business English while learning to make a name for yourself in the epicentre of innovation and entrepreneurial spirit of the USA.
5-week English and Start Up Course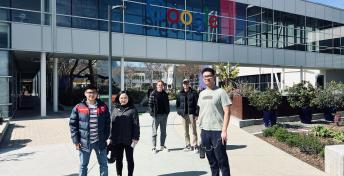 Week 1: Introduction to the course and Ecosystem of Silicon Valley
Your first week will be focussed on establishing yourself in Silicon Valley and include:
Building business English vocabulary: common terms and phrases
Giving an overview of the startup scene in Silicon Valley and the key players
Guest Speaker: a successful Silicon Valley Entrepreneur
Week 2: Giving a pitch
Your second week will be dedicated to creating and perfecting your business pitch in English and will include:
Delivering a pitch and receiving feedback
Developing a bare-bones business plan for a hypothetical startup
Guest Speaker: a venture capitalist who will explain what they look for when assessing a pitch
Week 3: Developing a Business Plan
This week will be focussed on learning how to create a business plan in English to deliver to potential investors and will include:
Learning each component of a business plan and understanding their importance
Creating a basic business plan for a hypothetical startup
Guest Speaker: a business consultant who will explain how to make the perfect business plan
Week 4: Raising Seed Money
Finding investment will make or break any potential business – this week will teach you how to raise seed money by:
Exploring a variety of funding options available to budding startups
Learning how to create a pitch deck
Guest Speaker: an angel investor will teach you how they evaluate potential investments and what they look for
Week 5: Silicon Valley Excursions and wrap-up
The last week will take you on a tour of Silicon Valley and a final summary of the course material – it will include:
A trip to the headquarters of Google, Apple, and Meta alongside tech meetups
Final course material review and feedback session
Guest speaker: a successful Silicon Valley entrepreneur who will share the potential successes and failures on the road to business success.
Do you need more information about our Course Plus Silicon Valley Start-up program?
Please get in touch with our team, or download a brochure:
Get the best deal for your language stay