Course Plus Cooking: Language courses abroad
Do you appreciate fine food and are you happy to help out with the cooking? You'll love our Language Plus Cooking programs all over the world! Combining language lessons and cooking workshops, these programs guarantee effective learning through practice and the pleasure of taste.

Get ready to explore world cuisine, sample tasty local produce and have a flavorful experience together with other aspiring cooks from all over the world. Focusing on pleasure and sharing, cooking workshops are an opportunity to apply the language skills learned in class and discover specific vocabulary while honing your cooking talents. This is the perfect recipe for consolidating your newly acquired knowledge.

Learning to prepare authentic, local dishes means further exploring the traditions and culture of your destination country. After learning the basics, you're free to improvise the recipe to suit your taste and put the cooking tips of your fellow international chefs to the test!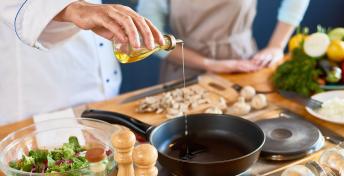 Spanish Plus Cooking
Tapas, vino y paella! Rich, colorful and flavorful, Spanish cuisine brings happiness to the kitchen. Discover the specialties of this fiery nation during exciting culinary workshops in Valencia or check out the Spanish PLUS cooking program in sunny Malaga or in San Sebastian, well known for being a culinary capital.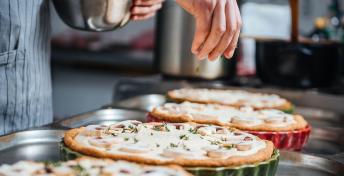 French Plus Cooking
Delicate, refined and proud of its heritage, French cuisine is an institution. Whether you prefer sweet or savory dishes, quiche, éclair or macarons, our school in Rouen will offer you workshops to suit your taste so you can put your French skills into practice while exploring the recipes that have shaped France's reputation throughout the world.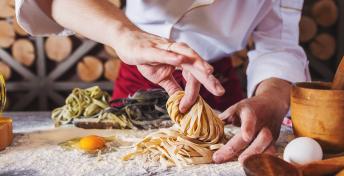 Italian Plus Cooking
More to the north of the country, our partners in Florence and Bologna are happy to share Italian recipes with you during tasty cooking lessons.
In Salerno in the sunny south, our partner school has prepared an exciting introduction to cuisine program balancing practical workshops and seminars with food-related cultural visits. Gourmets will be delighted by the wide range of activities offered, from wine tasting and mozzarella factory visits to recipes from the Campania region.

Even further south, learn to prepare Calabrian specialties in Tropea or hop over to the islands and become familiar with Sicilian cuisine in Taormina or with the Sardinian delicacies in Alghero.

Check out the best Italian recipes on our blog. 
Do you need more information about our Course Plus Cooking courses?
Please get in touch with our team or download our brochure:
Get the best deal for your language stay